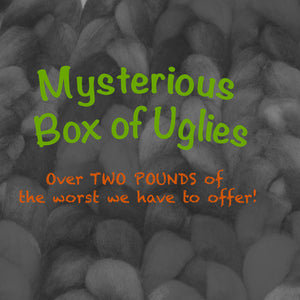 Suddenly finding yourself with more time than money, or are you needing some fiber to practice on before you get to the fancy stuff in your stash? This is your lucky day!
Your Mysterious Box of Uglies is a totally random and drastically discounted selection of fiber from the Woolgatherings seconds bin. This is the stuff that was not up to our (admittedly very high) quality standards. Maybe it sat on the shelves too long, didn't take the dye perfectly, is an odd size, or is just plain ugly. Whatever the reason... it got set aside, it is still totally spinable, and can make for some nice surprises. You might even find a few luxury fibers in there, because yes, sometimes I mess those up too!
What you get:
- 2+ pounds of dyed wool in assorted colors. Most of the wool is handpainted, though there may be a few odd pieces from our commercially dyed line as well.
- Braids are mostly our standard 4oz, but you may get some that are larger or smaller. Minimum size of 2 ounces.
- Fibers may include wool, silk, alpaca, camel, yak, angora, or blends thereof. If you have an allergy to a certain fiber, please note it on your order and I can be sure to exclude it.
- All sales final - no refunds or exchanges.